What's Your Home Worth?

Get a free comparative market analysis of your home's worth sent to you with no obligations.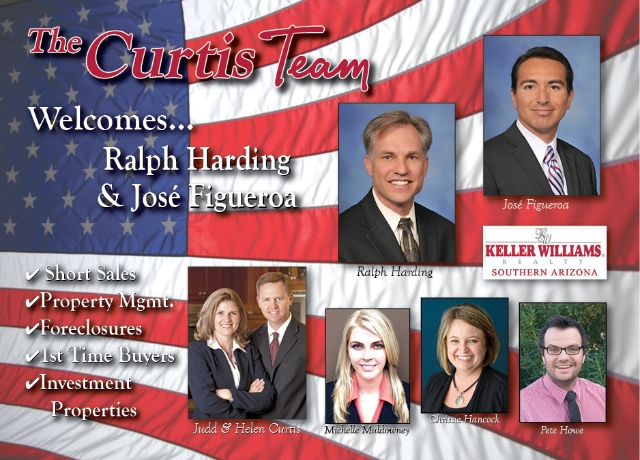 The Curtis Team serves their real estate clients in Tucson, Oro Valley, Marana, Vail, Sahuarita, Oracle, Catalina, Green Valley, and have partnerships in Phoenix and surrounding communities.
Helen Curtis is the team founder and a native of Tucson. She is an Associate Broker with over 10 years experience in residential, commercial, and investment real estate. She has a Bachelors degree from the University of Arizona..
Judd Curtis has been a real estate investor for several years and earned his real estate license to share his expertise with families and other investors. Prior to Real Estate he worked in International Corporate Finance for 15 years. He is fluent in Spanish and has an MBA from Arizona State University.

Chrissie Hancock joined our team in 2011 as a Buyers' Specialist. She works in all markets with a special emphasis to the growing and dynamic Sahuarita and Green Valley markets.

Pete Howe joine the Curtis Team in May 2012. He is a long-time resident of Tucson, speaks fluent Spanish and is a graduate of the University of Arizona.

Ralph Harding is a savvy investor and home inspector turned realtor he joined the team in 2012.

Jose Figueroa is from Sonora Mexico and is the team's only native spanish speaker. He joined the team in 2013 and is a graduate of the University of Arizona.
All team members work together to facilitate their clients' transactions. They pledge to you their professionalism, competence, confidentiality and loyalty. They know from experience that satisfied clients will return for future transactions. They appreciate your referrals!!
Judd, Helen, Pete y Jose hablan espanol asi que estan listos para ofrecerles servicio en su idioma.